Images
Download the Press Kit with images here.
Factsheet
Developer:
Chris Wu
Release date:
iOS: March 1, 2023
Platform:
iOS 16.2 and above
App Description
Please Don't Rain is a fun, convenient way to track whether rain (or snow) will affect a day that's important to you. Many weather apps are great for seeing the weather for today and for the next several days, but they're not so great for continuing to keep track of a particular day.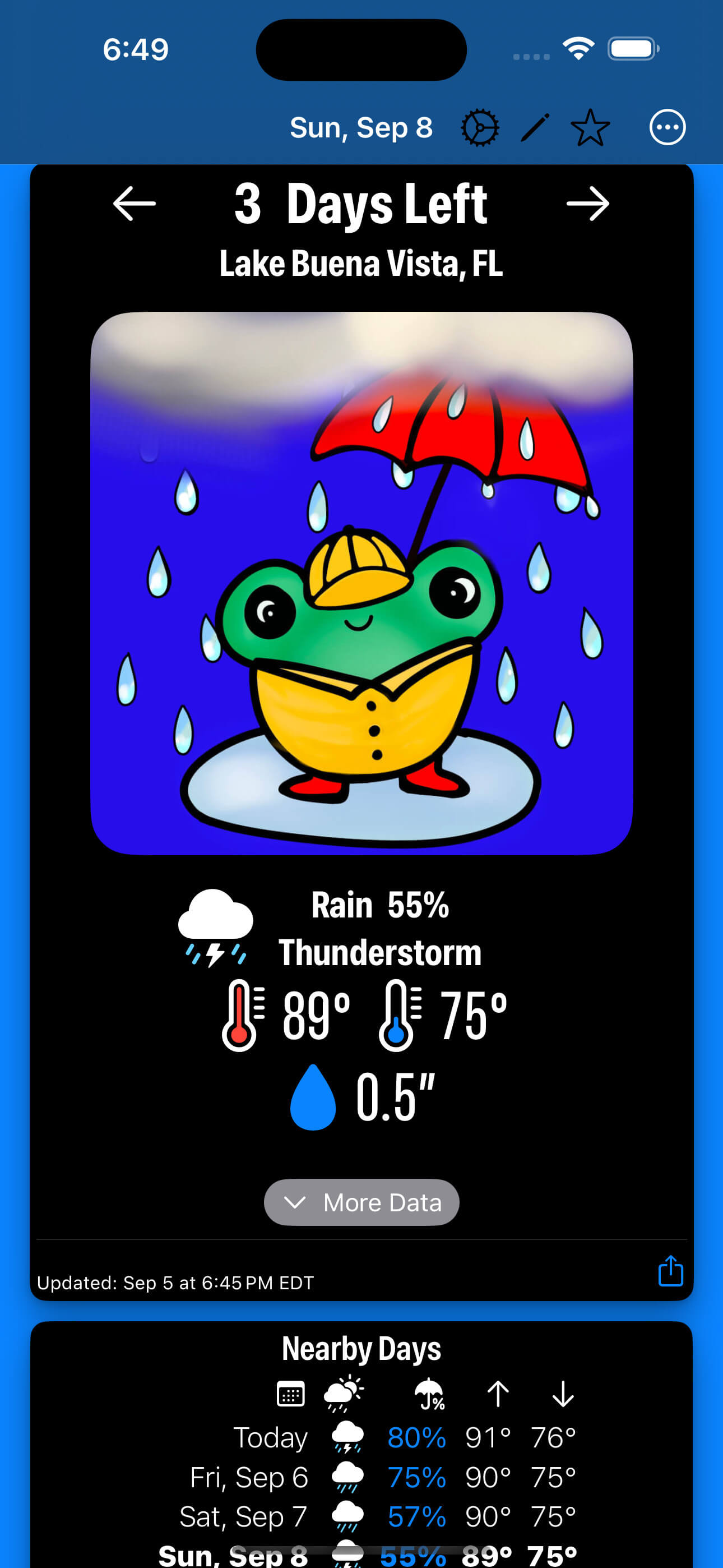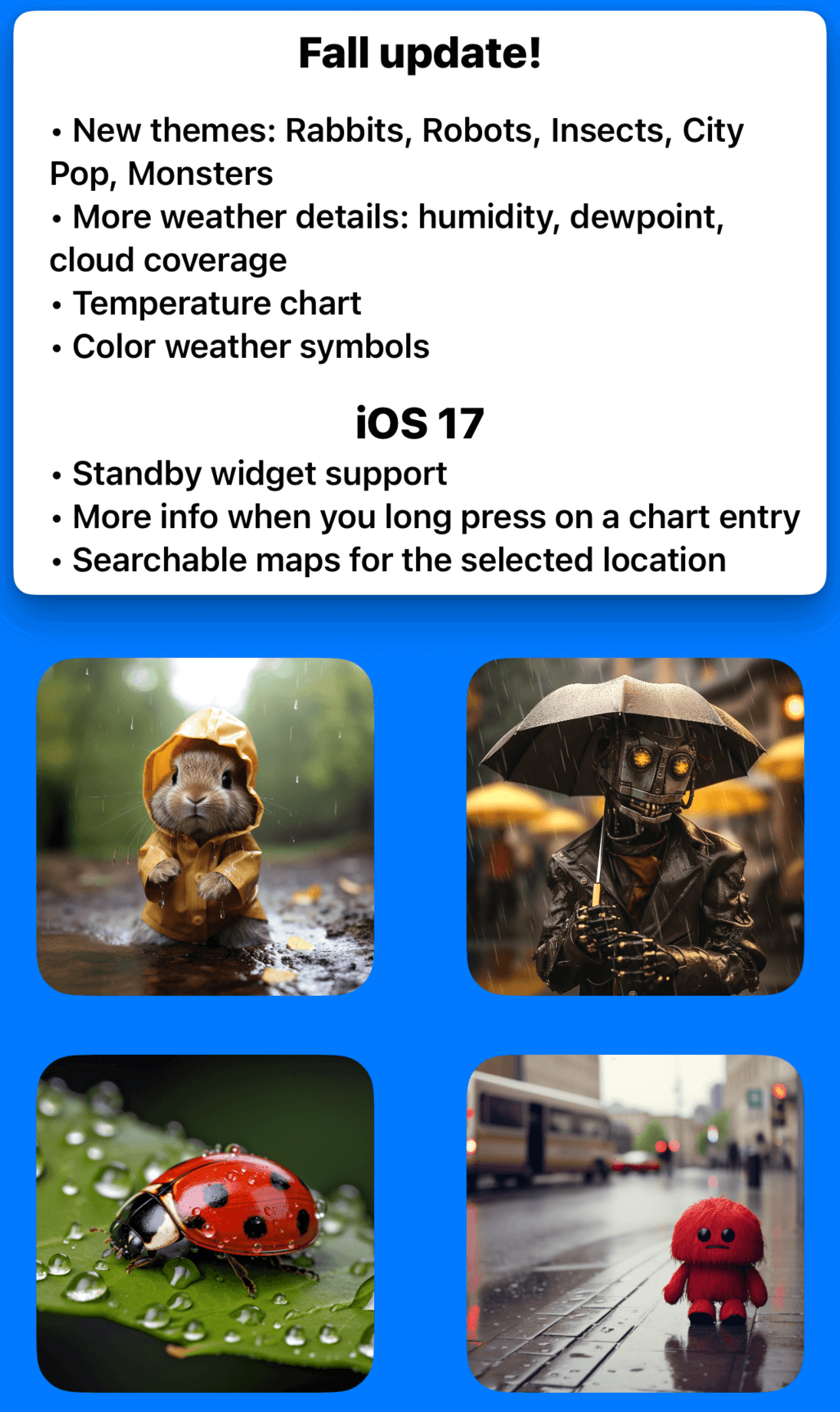 Why did I build this?
When I had a theme park day coming up I really only cared about what the weather was going to be on that particular day. I found myself looking up the weather for the same day at a particular location over and over again (thinking "Please don't rain!"). The whole process was cumbersome and I couldn't find a more efficient way to do it. So an app idea was born.
Who is this app for?
Anyone that wants a fun, convenient way to track if precipitation will affect a day that's important to them.
Tech
99% SwiftUI
WeatherKit
Swift Charts with audiograph support and RuleMark support (iOS 17)
Widgets - Lock Screen, home screen, and StandBy (iOS 17)
Images by DALL·E 2 and Midjourney 5
Dark Mode Support
Pro Features
Beautiful Weather Images - A variety of choices for each weather type that will automatically update to match the predicted weather.

Widgets - Multiple Lock Screen, Home Screen, and StandBy widgets. Track precipitation with a glance.

Automatic Updates – Automated forecast updates for your selected day will be reflected in the app and widgets.

Temperature Chart – Easily see the day's temperatures at a glance. The chart supports audio graphs and iOS 17 RuleMarks.

Save Favorites - Easily choose your most used locations.

Alternate App Icons - Fun alternatives.

Weather Statistics - UV Index, wind, gusts, sunrise, sunset, humidity, dewpoint, and cloud coverage data for your selected day.

Maps - Searchable maps for the selected location with LookAround support.
Free Features
Privacy First! - The app does not know your location, need your location, or ask for your location.

Weather Statistics - High/Low Temperature, precipitation chance, and precipitation amounts for your selected day.

Weather Alerts – If the app finds weather alerts for the currently specified location then it will provide a link to them for more details.

Hourly Precipitation Charts – If precipitation is predicted on your selected day then hourly charts can display either the percent chance or predicted amount for each hour of the day. The charts support audio graphs and iOS 17 RuleMarks.

Accessibility – VoiceOver, Voice Control, dynamic text, and audio graph support.

No advertising in the free or Pro version.

Clean and playful design.

Dark Mode support (can be automatic).

Numerous settings to configure the user interface.

English (USA) and German language support.
Price (in USD):
| Length | Cost |
| --- | --- |
| 1 year | $2.99 |
| 3 months | $0.99 |
Purchase
Please Don't Rain on the App Store
Contact
---
---
---
---
---
---
---