After doing it wrong multiple times I finally had an app launch I was happy with.
Background
So far I've launched four apps and for the first three apps the launch days have ranged from "complete dud" to "stress-filled nightmare" (never launch your app without your IAPs approved kids!). Clearly I had no idea what I was doing and I was determined not to let this happen with my latest app, Please Don't Rain. I was talking with Roddy Munro and he mentioned to me that he remembered a good launch guide written by Jordan Morgan. I reached out to Jordan and he pointed me to his excellent blog post that outlines how he handles YOLO (You Only Launch Once). I used it as a guide for my launch and I wanted to share my experience with it.
Let Apple Know What You're Doing
I've posted before about something I learned from a lab with the App Store team during WWDC22. Don't wait until your app is almost done to let Apple know about it.
BUT what I didn't know is how he told me I should use it. Start playing around with the new features and when you're happy with how things are going use the form to let the editors know you're working on something that uses new features. A TestFlight link is really helpful.

— Chris Wu (@MuseumShuffle) June 8, 2022
When you've got something working fill out the form and give the App Store editors a link to your TestFlight. This one was tough for me because it's hard (at least for me) to show your work when it's in a rough state. But the concept was there and when I had a functioning version I let the editors know ASAP. Considering how many submissions they must get it can't hurt to end up submitting your app twice instead of just once right when it launches. I didn't end up getting a feature but to quote Wayne Gretzsky, "You miss 100% of the shots that you don't take." I still think it's worthwhile to do this.
Checklist
Having a launch checklist is a great idea. There are SO many steps when you launch a new app.
Here are some of the top steps IMO.
Create a press kit
Reach out to the press
Create an account on social media for your app (in my case a Mastodon account on indieapps.space)
Post on Product Hunt
Check, double check, and then triple check that all IAPs are submitted and approved
Fill out the form again letting the App Store editors know your launch is approaching
Fill out Indie dev Monday form (this newsletter is currently on hiatus)
Preorder
This is something I never would have thought of. I think Jordan's method of making your app available for preorder was hugely important in my case. He did a two week preorder but I made mine a week and a half because I was anxious to get the app out there. While with my previous apps I didn't tell that many people about my launch I was absolutley shameless this time. I asked my loved ones to preorder. I asked my friends to preorder. I asked my cat to preorder. I asked them all to ask everyone they could think of to preorder.
I have to say that it was fun watching the numbers go up. I wish I would have recorded how many preorders I ended up with when launching. In this screenshot I've got 174 in the USA alone.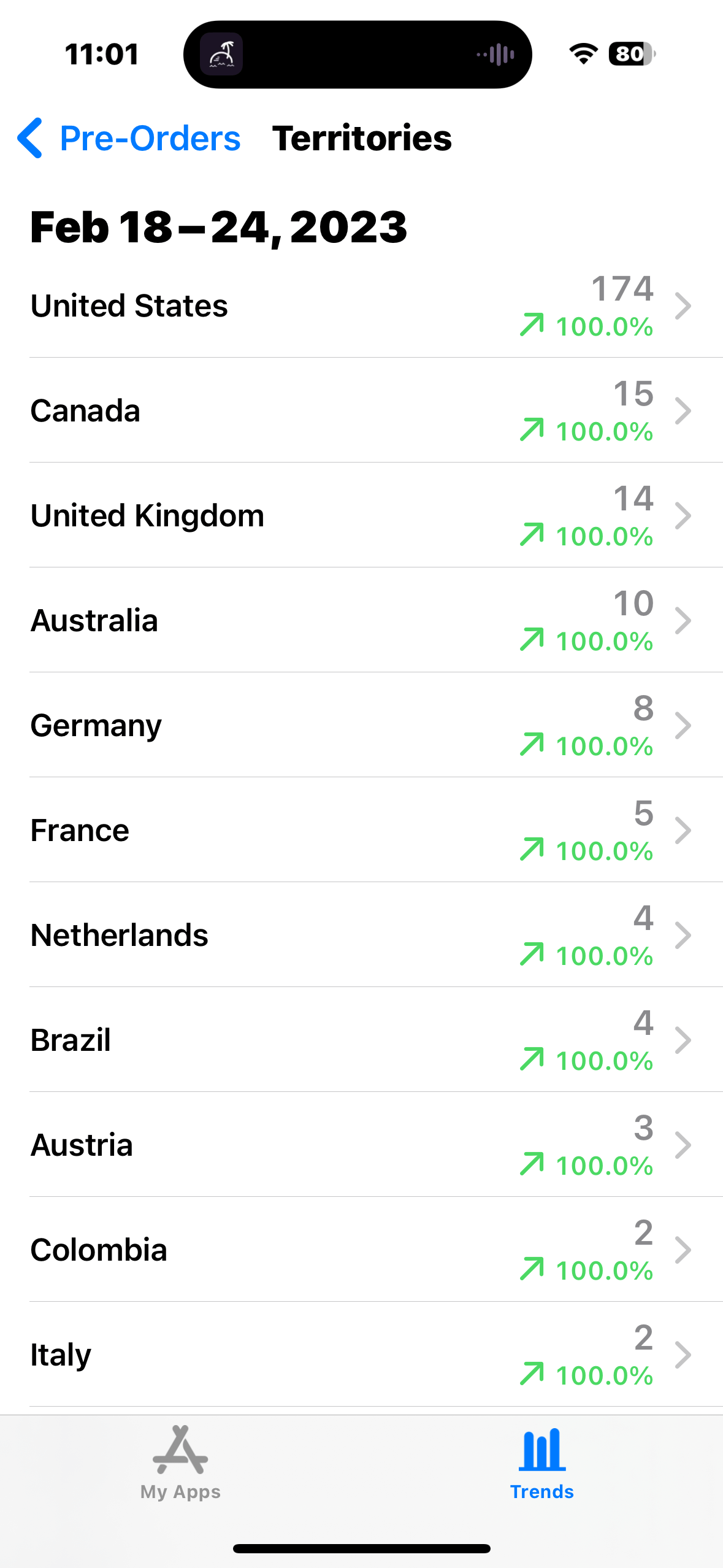 The Press
Reaching out to the press was something that I had done pretty much when I had launched an app or was just about to. This time the preorder window gave me more time to do so.
A Slight Problem
Unfortunately I also learned that you can push back the launch date of your app when you have a preorder. When the app was in review I got a rejection for not indicating that my forecast data came from Apple Weather. This was confusing to me because whenever I display a forecast this is prominently displayed at the very bottom.

I immediately wrote back and told the reviewer this and the rejection was removed. What made this incredibly frustrating was that the rejection sent my IAPs into rejected states also. The problem became (if I remember correctly) that my subscriptions were in an "In Review" state but the App Store Localizations for them were waiting for review. After several days of waiting I ended up contacting developer support. The person that helped me told me to definitely reach out if IAPs get into a state like this for more than 48 hours. I was put into an expedited queue but unfortunately that didn't help. I had to reach out again days later before the problem was finally resolved (which required no changes on my end to the IAPs).
I decided to push back my launch date to match the relaunch date of Roddy's app, Classifier that had a brand new look in his big upcoming release. We kept each other in check for reaching out to the press and things that we might have missed.
Don't Wait To Write On Launch Day
Another great piece of advice Jordan has was to have everything written and ready to publish before launch day. Launch days are hectic and having everything already ready for social media made things so much nicer.
It's The Big Day
When the launch day arrived I was nervous but excited as well. It actually went way better than I expected. I have NEVER seen one of my apps on the charts on the App Store and I didn't dare hope that I would crack the top 100. I believe I got up to number 34 on the chart for free weather apps before starting to descend. At one point my app was above Yahoo Weather! 😵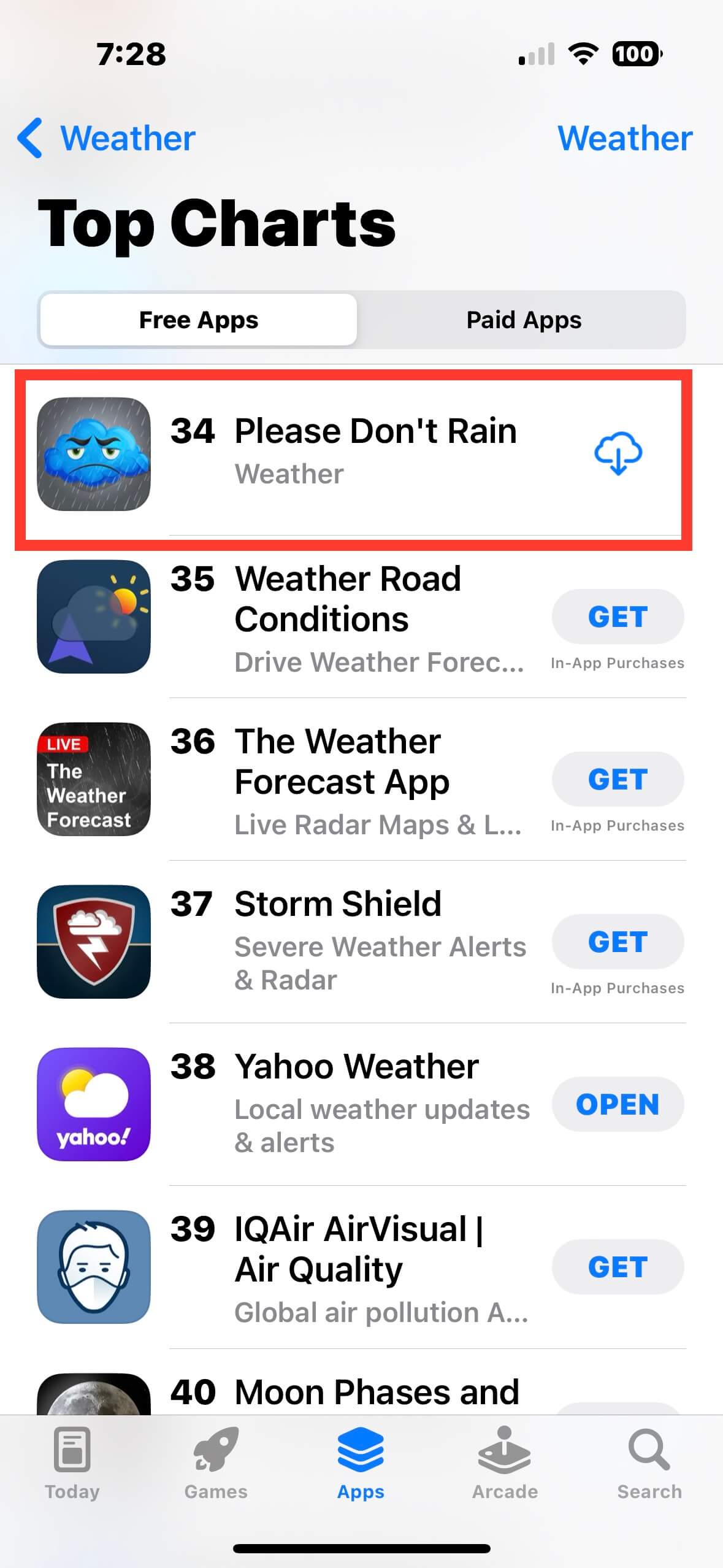 The Press Coverage
I had the best press coverage I've ever had with this release. I was delighted to find out that not only did Roddy and I get mentioned in the "App Debuts" section of the Club MacStories newsletter, but our apps were also listed side by side! (not showing the contents because it is for subscribers to Club MacStories)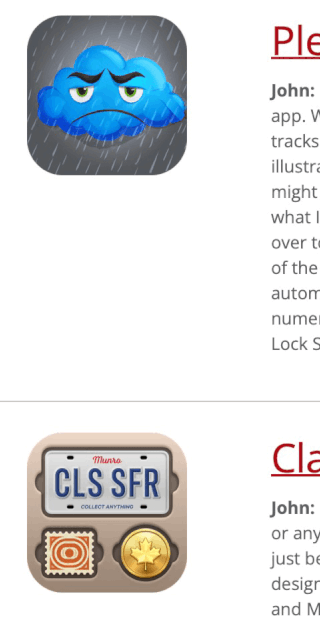 I've had my apps be mentioned in lists of other apps, but I've never had anyone pubish a story about just my app. I almost fell off of my chair when I saw that AppAdvice had written an article about Please Don't Rain. I'm incredibly grateful to Brent Dirks for doing so.

Product Hunt
The only part where I really differed from Jordan's advice was with Product Hunt. I was too busy on launch day and just didn't want to deal with it. After that I actually forgot about it for a while. I ended up putting it on Product Hunt almost a month after my launch. I was less shameless about asking for upvotes but still did post about it. Being on Product Hunt did get me press activity again. After the app appeared it was included in a post by iDownloadBlog for their "apps to check out this weekend", which was nice. I think putting the app back in the limelight again after the launch fainfare was over worked out nicely. If you end up doing this I would recommend claiming your app on Product Hunt so that someone doesn't create a post for it before you're ready.
Final Results
I'm quite pleased with how this all turned out. I appreciate Jordan sharing his tips and experience. You only launch once so make it count!!
Conclusion
If this post was helpful to you I'd love to hear about it! I'm @MuseumShuffle@mastodon.social on Mastodon and @chriswu.com on Bluesky.
Also, whether you're interested in becoming an iOS developer or you're a veteran of the App Store, iOS Dev Happy Hour is a great place to meet and connect with other iOS Developers. Join us at our monthly event! We also have a new presence on Mastodon at @iosdevhappyhour@mastodon.iosdevhappyhour.com.